SPRAY 2007
The First Street Artists Show in Tehran
Presented by Kolahstudio
Read More on Artcritique blog
See More Photos from The Show Space
Official Press Release:
Hamshahri(?) - Iranian major Official Newspaper
Published a Review on Spray2007 Exhibition.
Link to Article on Hamshahri Online: Here
JPG Version Of The Printed Article : Here
The Independant Art Studio Based on Tehran
1st to 6th September 2007
Openning : 1st Sep 2007
visiting hours : 16 to 20
Rented Space for Openning Week
Mehrin Gallery
The Exhibition will continue from 8th to 20th September in Other Public spaces in TEHRAN. ..
8 September to 5 October 2007
presentation of Some selected works at Cafe Eskis
Address:Tehran -Enqilab(Enghelab) Ave. , ValiAsr Junc. ,Next to IRANFILM.
Visiting Hours : 17 to 21
Except Fridays
14th to 1st of October2007
Public Presentation and Street Installations in Tehran and Other Cities To be continued...
دهم تا پانزدهم شهریور 1386 گالری مهرین
بخشی از آثار به نمایش در امده در گالری مهرین از
شانزده شهریور الی چهاردهم مهر ماه 1386
کافه اسکیس
چهار راه ولی عصر جنب ایران فیلم
ساعت بازدید: 17 الی 21
به غیر از جمعه ها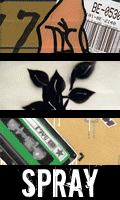 Featuring Art Works and Collabrations by :